"I can't write five words but that I can change seven." — Dorothy Parker

"Revision is one of the exquisite pleasures of writing." — Bernard Malamud
I don't know if I'd go as far as Malamud — "exquisite pleasures" may be a bit overstated. Then again, he probably chose those words very carefully. And I've found, over the course of writing six novels — well, nine actually, see below — that revision can be a real pleasure.
"I have rewritten–often several times–every word I have ever published. My pencils outlast their erasers." –– Vladimir Nabokov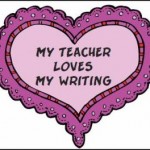 I clearly remember, in high school and college, being deeply offended by the idea that I should rewrite anything. My prose was grammatical, my sentences carefully thought out. What could I possibly improve?
Then I graduated and went to work and wrote a novel and tried to get it published — and failed. After a couple of years I shelved that manuscript and wrote another one. That one failed too. So I went back and read the first one again.
IT WAS AWFUL.
Overwritten, pretentious, obviously half-stolen from E.L. Konigsburg's From the Mixed-Up Files of Mrs. Basil E. Frankweiler.  Bad. So, so bad.
I reread the second one. It was a little better than the first, but still bad. Very bad.
Somehow, in the years that had passed, it never occurred to me to rewrite the books. That's probably a good thing, because I doubt they could be redeemed, but still…
"The wastebasket is the writer's best friend." — Isaac Bashevis Singer
Then I wrote a third one. It was better, though not good enough to get an editor to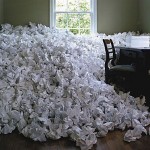 say yes. But I loved the story. So I rewrote it. And rewrote it again, based on an editor's comments. Rewrote it a third time, based on an agent's comments. I changed the point of view; the order of scenes. I cut, added, cut more. It still didn't get published, but it became a much better story. It's historical fiction, so traditionally a hard sell, but who knows — maybe someday it will be a book. And in the process, painfully and with plenty of resistance on my part, I learned how to revise.
The difference between the right and the nearly right word is the same as that between lightning and the lightning bug." — Mark Twain
The Marvelwood Magicians, the book I'm polishing now for publication in 2017, has been seriously revised/rewritten three times. Plot, themes, characters are finally all clear a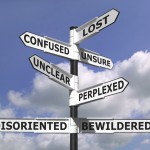 nd well shaped. My grammar is, I'm fairly sure, nearly perfect. So under the gentle guidance of an editor whom I trust, I've come down to the words themselves. Choosing the best word really is a pleasure for me. Understanding shades of meaning — the differences among "cried," "wept," and "sobbed," for example, or "uneasy," "nervous," and "tense," and deciding which is the right word for my sentence — is actually kind of fun. Entertaining. Satisfying. Pleasurable, enjoyable, gratifying!
Yes, it took a while, but I finally realized that Nabokov, Parker, Malamud, and pretty much all writers who have ever written about writing were right. Writing is rewriting — and rewriting is where you get to try and try and try (and fail, always fail) to achieve perfection.
"Throw up into your typewriter every morning. Clean up every noon." — Raymond Chandler
(BTW, this post has undergone 15 revisions. So far.)
(Make that 16.)