As always, I loved appearing at Books of Wonder, the fabulous children's bookstore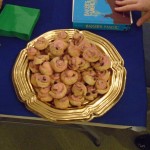 in Manhattan. It was great to meet my co-panelists, Aimee Carter, J.A. White, and Leila Sales, and hear them read from their wonderful new middle-grade books. I b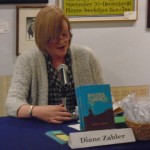 rought mini-Bouts buns, which disappeared quickly, and got to meet my publicist, the charming and slightly virus-ridden April Roberts, who brought swag for the audience. And I was so pleased to see some old friends. Dave and Martha, Shani and Michael, Judy, and Susan (and of course Phil and Ben) — thank you for coming out for the event!
A couple of days later, I went to the Mill Road School for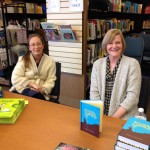 their annual author/illustrator tea. They provided a delicious lunch for an impressively large group of writers and artists (the Hudson Valley is teeming with us). Then I talked to three fifth-grade classes about how Baker's Magic went from idea to bound book (I called the presentation Baking a Book, which involved taking a metaphor and stretching it just about as far as it could go, or possibly slightly farther). The students asked loads of questions, some of them really challenging to answer. Afterward, I got to hang out with the authors and illustrators in the library, eat brownies and cookies, and sign books for students. Exciting, exhausting — fun!