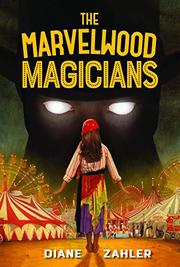 Eleven-year-old Mattie Marvelwood comes from a family of traveling performers. Her dad is an illusionist; her mom is a fortune-teller; her brother has a vanishing act; and she herself is a mind-reader. But the Marvelwoods have a deep secret. When they join Master Morogh's Circus of Wonders, the strange ringmaster begins to sense what that secret is, endangering the whole family. Do the Marvelwoods run, or risk exposure by trying to beat the duplicitous ringmaster at his own game?
Click on the cover to pre-order The Marvelwood Magicians!
From Kirkus Reviews: 
A hair-raising, exhilarating, big-top mystery.
From School Library Journal:
The Marvelwoods are mighty interesting. Each member of the family has a particular talent. Eleven-year-old Mattie can read minds. Her brother Bell can disappear at will, her little sister Tibby levitates, her mum tells fortunes, and her dad can create illusions. After the family's old van suffers yet another breakdown, they end up in a small town right as a traveling circus is visiting. Invited to perform by the charismatic but menacing Ringmaster Master Morogh, the Marvelwoods meet fascinating and kind performers. Mattie makes a close friend and finds satisfaction in being in one place with the same people instead of constantly being on the road….The suspenseful plot moves quickly, and Zahler vividly portrays the unbearable pain of losing an innate part of one's self.

VERDICT Bound to entice voracious and reluctant readers alike.