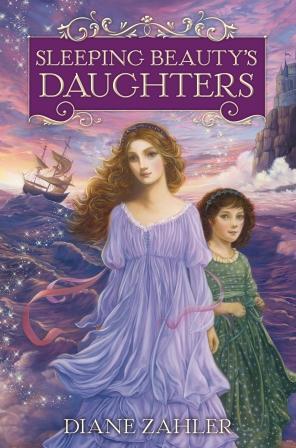 Two Sisters on a Perilous Quest
Princesses Aurora and Luna have grown up in a cliff-top palace by the sea, where they are carefully protected by their parents, the king and queen. No one visits, the girls cannot stray beyond the castle walls, and, curiously, all sharp objects are forbidden from the castle.
But accidents will happen—particularly when an old curse still has power. Soon, in spite of all precautions, Aurora is struggling not to slip into an enchanted sleep.
Frantic, the princesses accept the help of a young fisherman named Symon and embark on a daring ocean voyage to find their aunt—a fairy who may be able to break the spell. From fearsome beasts to raging storms, many dangers befall them, yet they must not give up…for if Aurora sleeps, she will not wake for one hundred years.
Click on the cover to order Sleeping Beauty's Daughters!
From Kirkus Reviews: …a story about girls with agency who, though aided by others, find the solutions to their own problems. A refreshing fairy tale that breaks the passive-heroine mold.

From Booklist: Zahler has written a "fractured fairy tale," an extension of the traditional Perrault version. Fortunately, she retains the lush descriptions…and the hanging chapters that make all fairy tales such enjoyable read-alouds. Readers will identify with Luna's spunkiness, Aurora's fight to stay awake and alive, and the subtle (and not-so-subtle) lessons learned through each of the sisters' trials.

From School Library Journal: This intricately plotted, appealing continuation of the classic tale combines magic, realism, and some modern attitudes….Zahler's fans and those who enjoyed Gail Carson Levine's Ella Enchanted or Robin McKinley's Beauty will love this story.
For a Reader's Guide to Sleeping Beauty's Daughters, correlated to the Common Core Anchor Standards, just click here: