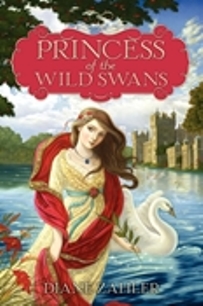 Princess Meriel's Task
A terrible enchantment has transformed Princess Meriel's brothers into swans who swim on a heart-shaped lake that lies just beyond the palace walls. To rescue her beloved brothers, Meriel vows to finish a seemingly impossible task. But she must act quickly! Once first frost reaches the lake, the princes will have to fly south — or perish.
Click on the book to look inside or order a copy of your own. Or order it in paperback here!
From Bulletin of the Center for Children's Books: "Zahler shines in her ability to set an exquisite scene, and her descriptions of both the luxury of royal life and the more cozy aspects of a commoner's cottage will bewitch fans of Andersen's original."

From ALA Booklist: "Readers will root for Princess Meriel as her love for her brothers causes her to realize her strength and capabilities. Fans of Jessica Day George and Gail Carson Levine will enjoy Zahler's light, lyrical prose, as well as her stalwart and true heroine and strong secondary characters."
For a Reader's Guide to Princess of the Wild Swans, correlated to the Common Core Anchor Standards, just click here:
Princess of the Wild Swans Reader's Guide