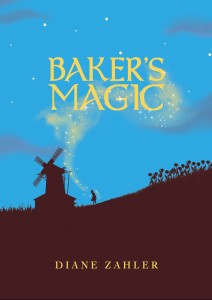 Bee is an orphan, alone in a poor, crumbling kingdom. In desperation, she steals a bun from a bakery. To Bee's surprise, the baker offers her a place at his shop. As she learns to bake, Bee discovers that she has a magical power. When a new friend desperately needs her help against an evil mage, Bee wonders what an orphan girl with only a small bit of magic can do. Bee's journey to help her friend becomes a journey to save the kingdom, and a discovery of the meaning of family.
Click on the cover to order Baker's Magic!
From Kirkus Reviews:
While this joyful, creative adventure is filled with pirates, magic, missing trees, and a cuddly hedgehog, it is more than just a sweet ride. At its core, this is a story of bravery, resilience, and love.
From Publishers Weekly:
Zahler (Sleeping Beauty's Daughters) has created a cozy fantasy adventure with tension, twists, and sweet treats. Bee and her companions are quick-thinking and determined heroes, and their journey to right wrongs should appeal to a broad range of readers.