This page shows my book-related activities from 2009 through 2012. Check out my blog to see more recent news.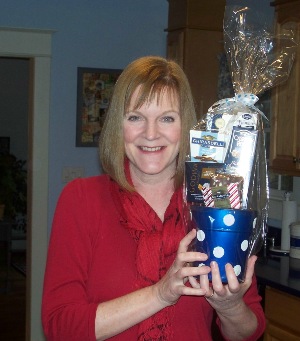 Middle-schoolers Kathryn and Jenna interviewed me in November. They are creating an amazing documentary on the Black Death for the National History Day competition. They know EVERYTHING about bubonic plague –– and they gave me chocolate!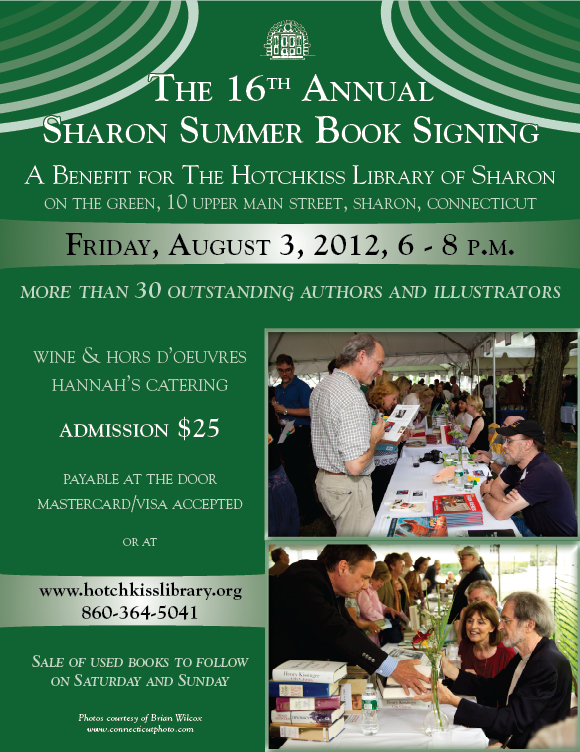 It was sauna-like in Sharon for the Hotchkiss Library Booksigning, but we had an excellent time anyway. I was thrilled to meet middle-grade author Ann Martin and YA authors Jennifer Castle and Kim Purcell. Many braved the heatwave to support the library, and we sold and signed lots and lots of books. What a fabulous event!
My blog tour for Princess of the Wild Swans was wonderful — great sites and interviews, and fabulous reviews. Click on a site to read the review, interview, or guest post.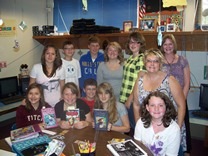 It was so great to meet the students at Princeton Elementary in Princeton, ME. I sense a cluster of future authors there: poets, fiction writers, sports journalists — maybe even someone who writes about dogs (you know who you are!). I loved sharing my stories with you all. Keep me posted on your writing!
The wonderful Whitney Joseph has written an article about me and my books in the Millerton News, our local paper.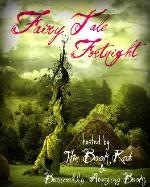 The Book Rat and Basically Amazing Books posted an interview with me during their fabulous Fairy Tale Fortnight. If you love fairy tales, check out their sites.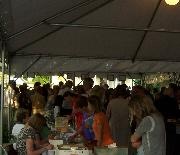 August 5, Sharon, CT: Had a fabulous time at the Hotchkiss Library's fifth annual booksigning. I met some wonderful writers and gazed from afar at the legendary Henry Kissinger and his  bodyguards. A huge crowd came, and A True Princess sold out!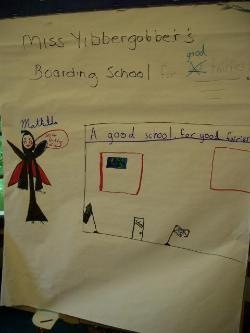 The Hotchkiss Library was the site of a fairy-tale writing workshop on June 18. A group of eight young writers with tremendous imaginations worked with me to create the characters, setting, and plot for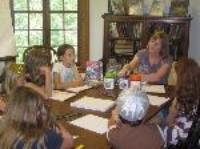 Miss Yibbergabber's Boarding School for Good Fairies — here's the book cover!
Once again, reading at Books of Wonder was amazing. I read with authors Andrea Davis Pinkney (who sang  — what a beautiful voice), Derek Benz, Julie Sternberg, Jerdine Nelson, John Kloepfer, and Jack Ferraiolo. There's a great post with photos on Tumblr.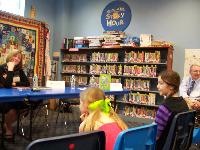 Loved the Millbrook Book Festival!  I read from A True Princess and signed books, got to meet and talk to lots of readers and other authors.

Check out my blog tour for A True Princess, which took place from February 1 to February 12. You can read reviews, interviews, and posts — and see who won a book. Just click on each site:
| | | |
| --- | --- | --- |
| Date | Blog Name | What's Happening |
| Tuesday, Feb. 1 | The Compulsive Reader | Review, book giveaway |
| Wednesday, Feb. 2 | The Brain Lair | Author interview, review |
| Thursday, Feb. 3 | Jean Little Library | Review |
| Thursday, Feb. 3 | Galleysmith | Author post, review |
| Friday, Feb. 4 | Write for a Reader | Review |
| Saturday, Feb. 5 | The Cozy Reader | Author post, review |
| Sunday, Feb. 6 | Libri Dilectio | Review |
| | | |
| Tuesday, Feb. 8 | Green Bean Teen Queen | Review |
| Tuesday, Feb. 8 | Mother Daughter Book Club | Review |
| Wed., Feb. 9 | There's a Book | Author interview, review |
| Thurs., Feb. 10 | Mrs. V's Reviews | Author interview, review |
| Friday, Feb. 11 | The Cazzy Files | Author interview, review |
| Friday, Feb. 11 | Sonder Books | Author interview, review |
| Saturday, Feb. 12 | BookScoops | Author interview, book giveaway, review |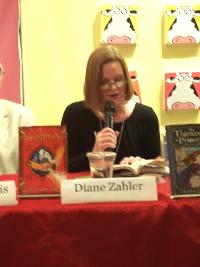 I read and signed books at Books of Wonder in Manhattan on November 11. For me it was the realization of a long-time dream — I've loved this amazing bookstore for many, many years. Had so much fun meeting and listening to fantasy authors T.A. Barron, Jake Halpern, Barry Lyga, J.M. DeMatteis, and Dan Poblocki, talking to bookstore owner Peter Glassman and his fabulous staff, and seeing some old friends and their kids. More photos below…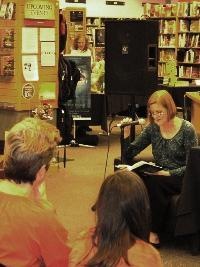 The Borders event, "Spotlight on Local," in Ithaca, New York, was beautifully organized and well attended. I read from The Thirteenth Princess and signed copies for enthusiastic readers. Thanks to all who stopped by!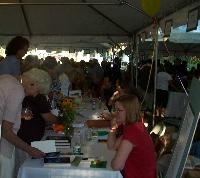 The Sharon Book Signing Event at the Hotchkiss Library was fabulous. So many wonderful authors and illustrators, so much food and wine –and The Thirteenth Princess sold out!
I dropped in on Manga Maniac Cafe to chat with Julie Opipari about The Thirteenth Princess. Click here to read the interview.
I had a great time visiting the Eugene Brooks Intermediate School in Amenia. The students asked some awesome questions. They made me think a lot about writing — how I got my ideas and how I went about writing The Thirteenth Princess. And they noticed some things about the story that I hadn't even realized! Thanks, everyone, for a truly memorable experience.
Here are some photos from the day: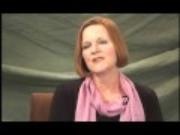 Here's a video interview I gave about The Thirteenth Princess. Just click on the picture.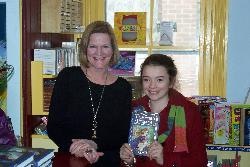 My launch party and  first book signing of The Thirteenth Princess at Oblong Books in Millerton, New York, was really fun. Lots of enthusiastic readers showed up, and lots of friends too.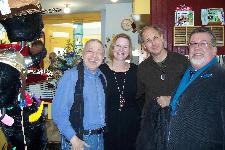 One friend even came all the way from London as a surprise!