I've been absolutely loving London. So far the weather has been great (there, I just jinxed it!), and I'm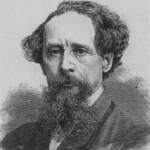 walking everywhere. Our neighborhood, Clerkenwell, is a trove of literary locations, especially ones related to Charles Dickens. Dickens lived nearby and memorialized the area in several of his books.
We went outside our little piece of the city this weekend to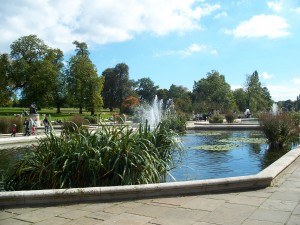 Kensington Gardens. It's a big park in the center of the city, with beautiful fountains and ponds, grassy areas, birds of all types, restaurants, a museum, even a palace. But to me, Kensington Gardens has always meant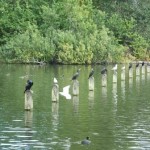 one thing: a book I remember having read obsessively when I was 8 or 9 called Peter Pan in Kensington Gardens. For a long time I thought it was the actual novel Peter Pan.  Everyone knows Peter Pan, either the book or one of the five movie versions (with two more coming this year). But what about Peter Pan in Kensington Gardens? Was it the same book? Did it even exist?
It turns out that the author, J.M. Barrie, introduced the character of Peter Pan in a book for adults called The Little White Bird, published in 1902. Two years later, he wrote a stage play, Peter Pan, or the Boy Who Wouldn't Grow Up. It was a great hit, and a publisher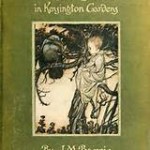 convinced Barrie to take several chapters of The Little White Bird and publish them in 1906 as Peter Pan in Kensington Gardens, with illustrations by Arthur Rackham. It wasn't until 1911 that Barrie expanded the tale and published Peter and Wendy, which later became Peter Pan.*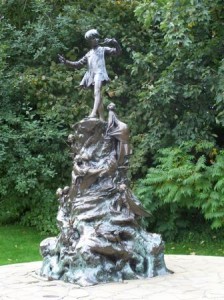 There are others besides me who know that early version, though — here's the statue of Peter Pan, located right in the middle of Kensington Gardens.
*I'm not 100 percent sure I've ever read the actual novel Peter Pan. I'll get right on that…